Did you know that insurance companies like MetLife still think it's okay to generate leads for new insurance customers through spam? I've had enough of just ignoring these types of emails that land in my junk mail folder on Gmail. Having my Gmail account since 2004, it's really been around the block. And now, by looking at the fruitfulness of my spam folder, it's very clear which companies hire the scum of the Internet to send out random spam which attempt to entice users to click the links inside. These days, emails are not just about random people looking for things I can't even mention here. Many well known companies have shady employees without any moral direction, who are deliberately making a mess of their reputation. My first case here is Liberty Mutual. An insurance company trying to gain leads in deceitful ways, as usual.

The link in this email (http://ttdeipotent.com/UgmDUESChSHnhaJQuMnzN4/EWYwqszGuPblrCjNpaSxpH/JVgcdEImNIAmlhNcvCSXfyCM/IaMqcRlSIvhUbbw/vFLNG5WAHSv7ZCudqpPWkE6yEHCVJUJwPtGi6ejb/VpFNefiLzKCzMuAf) forwards to a real page and email campaign at Liberty Mutual:
https://www.libertymutual.com/quote-intent?src=%20email_pacq_em_Aug15_tc11_quotebut&cmpgncde=2438
Maybe Liberty Mutual has customers who can make money for referring customers. I don't know and don't have time to find out. But either way, you have to agree something is going on which is not good.
Next case is MetLife. I guess they have people doing the same thing, only for life insurance.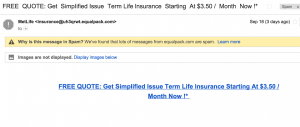 "MetLife is among the largest global providers of insurance, annuities, and employee benefit programs, with 90 million customers in over 60 countries." Wow. To be so prestigious.. what a joke! The link in the email (http://equalpack.com/PRsIxujjhXHMxpkYc/yPUvTFixZIYmvyRZIW/PdDERcfEiQVaZrrHKXZ/RJVNLJaY4Zm-fYY5z_8lmLI_/MjBKOMcqkOELRFfbCbFrUSZG/xfIQseCklfuhahsNY/) goes here: https://www.metlife.com/campaign/life-insurance/simplified/index.html?WT.mc_id=ce089985&pagefrom=MLBN_LIS&dclid=CMOL6v7zicgCFQWAfgodF5YGyQ