We bought a house in Portland, even after finding out that the average level of radon in our finished basement was 4 pCi/L. The lowest recorded in a 48 hour period was just over 1 pCi/L, while the highest recorded was over 6 pCi/L. And who knows if the crazy people who owned our house previously had the windows and doors open, therefore making our test inaccurate. We really need to do another test ourselves.
Anyway, at the time we wanted the house and didn't think it was really a big deal. We aren't going to hang out in the basement much anyway, just sometimes. And I am pretty sure radon isn't being transmitted all over our house by the furnace system. (Please correct me if I'm wrong, and further enlighten me if I'm right.)
But the other day I was doing some major cleaning. I moved the refrigerator to get rid of thick layers of dust and found a tiny white pill. The elderly owners (who lived here since 1959) moved out in 2013 I believe. And the next people who bought the house lived here for one year – this makes us the third buyer. I would assume the pill was from our original, elderly home owners and not the young ones we bought the house from. And since the previous buyers left dog poop covered and pee soaked carpet, and never cleaned anything EVER, I was the first person in probably five years to clean under the refrigerator. The pill was definitely from one of the first home owners.
The tiny pill was labeled M on one side, and L 5 on the other. I found out it is levothyroxine. This drug is for thyroid problems. Thyroid problems are linked to radon. On the other hand, thyroid issues also happen completely randomly for many different reasons.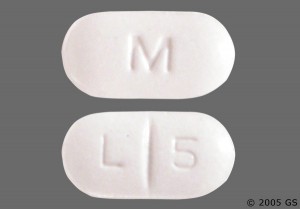 So, did the radon in this house cause one of the elderly homeowners to succumb to some kind of thyroid problem? One of our neighbors confirmed that the husband and wife went to a nursing home at the same time before the house was sold.
Great – another thing to keep me up at night. I guess we can spring for paying for the basement radon mitigation system and get more tests after that. I'm concerned for the kids. Daniel and I have already been exposed to enough radiation – it's cool. But I need to find out what is going on here for our little ones since one is three years old, and the other is only nine months.